Nihongo Class Program
The Japanese Language Training or Nihongo Class in NSP is open to all employees with the purpose of developing language fluency and, consequently, better appreciation of the Japanese culture and way of living. These in-house Nihongo classes are held twice or thrice a week, normally at the start of the Fiscal Year (FY). Operationally, it serves to 1) prepare the employees for an opportunity to work overseas through the company's Intra-Transfer Program and work with the mother company in Japan, NEC Communication Systems Ltd. (NCOS) and 2) encourage employees to take and pass the Japanese Language Proficiency Test (JLPT) held worldwide to evaluate the proficiency in Japanese Language for non-native speakers.
For years, NSP has produced passers in five different levels: N1, N2, N3, N4 and N5 - N1 being the highest level. Passers are entitled to a monthly allowance, corresponding to the level passed.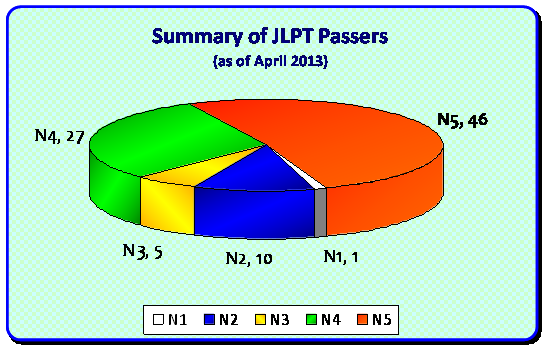 NSP employees are not only limited in application of their Nihongo skills at work. They are also provided real opportunities to improve their talents, by exposing them in activities such as Nihongo speech contest (both local and national level). By far, NSP has produced two (2) employees with outstanding performance during the national competition and continuing to produce winners in the local contests. National winners take part in an all-expense-paid week-long study tour in Japan.